Beginning Thursday, January 11, I will be co-hosting the radio show incarnation of the Pop and Schlock podcast with author and educator J. Goodson "Jake" Dodd on 90.1 KPFT, Houston's Pacifica affiliate. Our show will run on their HD2 stream from 8-9 p.m. every Thursday night; for our friends and supporters who either don't have HD radio access or don't live in Houston, it can be streamed live here. After we've aired two episodes, we'll have an RSS feed available for you to catch up on what you've missed. We are also in talks with KPFT regarding uploading previous shows to iTunes in a way that ensures their ownership of the IP is respected.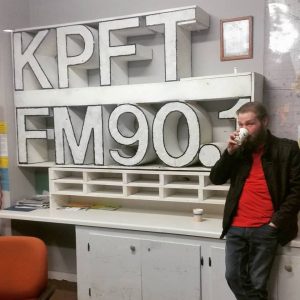 For this iteration of Pop and Schlock, we plan to critique and analyze movies and TV shows with a particular emphasis on storytelling. Most of the time, at least for the time being, we'll cover first-run movies and TV shows currently on the air. Our first outing, however, will summarize what movin' pitchas we loved and what we didn't in 2017. In the future, we want to provide some deepdive looks at both older films and analysis of contemporary media issues as well. Jake and I hope to encourage listeners to think critically about the ins and outs of their favorite works with humor and insight*; something we've agreed upon is that we don't want to gleefully rip what we don't love apart. If we don't enjoy a show or a movie – and there's quite a bit we don't enjoy – we feel we owe the creators a detailed explanation as to why rather than commercially exploitative negativity for negativity's sake. We value education without condescending our audience.
Episodes from the original podcast run can be found on iTunes and Stitcher. They're more anarchic and stream of consciousness than the version you'll be hearing on KPFT, not to mention full of words the FCC won't let us use, much to our consternation. But they're still a lot of fun and I hope you enjoy listening to them as much as we did making them. Working with Jake has always been a joy, so I'm excited to spend more time with him in a creative environment both familiar and new. Plus, this fulfills a lifelong dream of hosting a radio show where I exercise some control over the content. I am a fan of win-win situations.
Jake and I are both extremely gracious to Don Freeman at KPFT for his enthusiastic support of this venture.
*Humor and insight not guaranteed.