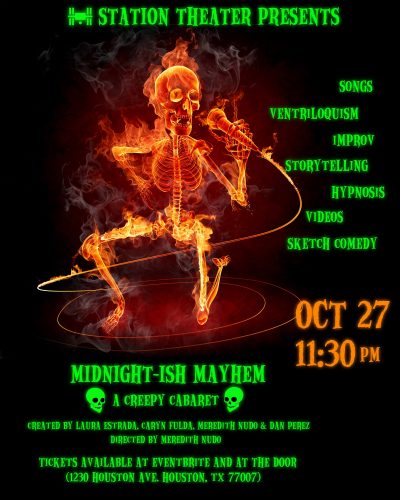 Look, I'm just as surprised as anyone else that a woman who was once called "spatially unaware" by a high school theater teacher was trusted with directing a cabaret show, but hey. I totally was. Laura Estrada, Caryn Fulda, Dan Perez, and I created the super fun and campy Midnight-ish Mayhem, which we've been touting as like The Addams Family meets The Gong Show.
So pretty much the exact show you figured I'd do for my first attempt at giving directing a go.
The entire process has been a blast. Dan, Caryn, and Laura bring so many great ideas and so much talent to our meetings and rehearsals. I am super fortunate to be working with such creative, collaborative minds, and I am working hard to ensure that their unique voices and visions – as well as those of our guests – receive the showcasing they deserve.
Special thanks goes out to Jennifer Oliva and Sharon Perez for their stellar work on Dan's makeup and costume, respectively. We'd also like to thank Alison von Buhl for her work behind the scenes as our sound and light wizard.
And, of course, our gratitude to Jessica Brown and Roger Anderson of Station Theater for letting us loose on the venue. We promise there will only be a minimal amount of accidental arson.
Here's a little bit about what we have lined up for you:
Song and dance numbers
Ventriloquism by special guest Phil Nichols
Improv by special guests Trek Wars (Roger Anderson, Jessica Brown, Jesse Garson, Ryan Terry, Carolyn Wallace)
Video
Hypnosis
Sketch work featuring special guests David Lam and Paul Gallegos
Short story reading
And here's a lot a bit about when, where, price, and – of course – alcohol rules:
Date: Saturday, October 27
Time: 11:30 p.m.
Admission: $10 via Eventbrite or at the door. Refunds are available up until the day of the performance.
Location: Station Theater, 1230 Texas Ave. Houston, TX 77027 (map)
Parking Information: (courtesy of Station Theater) Street parking is available on Dart Street or in the lot in front of Revolution Dojo. Please be mindful when parking in front of area homes as some driveways are difficult to see.
Booze: BYOB
Audience: Must be 18 years of age or older. Midnight-ish Mayhem contains adult content and language.
Sounds fun, eh? Of course it does. You should probably go.
——-
If you would like to further support cabaret theater in Houston, or if you want me to retire early so I never have to direct again, please consider making a small compensation to my Ko-fi.