Content Warning: This piece discusses the emotional and physiological elements of anxiety in detail.
Note: The anonymous performer mentioned in this piece has read and approved the measures made to protect her privacy.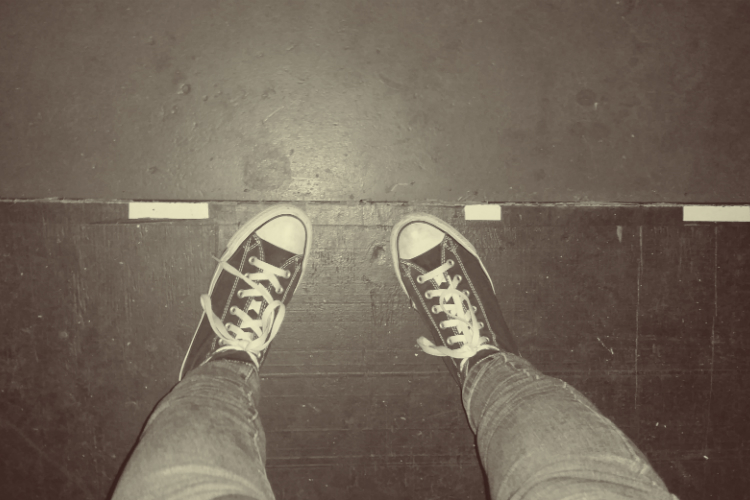 I barfed after performing in my first comedy festival. Left for the parking lot to change into my staff t-shirt and gifted the pavement with a tribute of hydrochloric acid and taco particles. An excited reception from a sold-out crowd should spark joyous reverie, but my brain slipped immediately into guilt that I stole an opportunity away from a more deserving, more talented improviser.
Irrational guilt, of course. I had been invited to participate, approved by the organizers. Nobody challenged the validity of my presence but me.
The problem improves over time, but each step forward as a comedian arouses a new volley of insecurities to crush beneath my Chuck Taylor All-Stars. Working closely with fellow pros on a weekly basis engages me to an exhilarating degree – one where I'm running a constant analysis of my strengths and weaknesses. Mostly weaknesses. Mostly puzzling over how to work through them. I want to offer the same level of on-stage support to my teammates that they offer everyone, and my focus lasers in on my failures to graciously give and receive.
Nobody challenges the validity of my presence but me.
Because the disconnect I feel is common. Endemic to improv, to all creative pursuits. The reports of my uniqueness have been greatly exaggerated.
I attended a show recently that featured an improviser whose work I follow and admire. A young woman I am proud to call a friend, and someone whose formidable talents stokes both joy and longing. Her imagination, her listening skills, her ability to command or support a scene as needed… an exciting performer with a long, gratifying career ahead of her and the giddily skittish anticipation that comes with it.
Someone who expresses a similar admiration of… me?! Grateful for the positivity, to be certain, but had I been drinking a soda at the time it would have drizzled an unsightly stream out my nose. Me, whose attempts at miming recall a caffeinated Kermit the Frog. Me, who once blew an audition by running into a scene declaring, "I AM THE PUMPKIN FAIRY!!" with no connection to what was happening on stage. Me. Me?!
We talked throughout the day, exchanging sincerities and advice, bonding over the frustration that comes when women asking for help get treated like they're fishing for compliments rather than seeking to fish for a lifetime. Together we found mutual empowerment in taking ownership of our self-denigrating comparisons. Even when we stayed silent about wanting what the other had, we never felt compelled to tear one another down.
Because envy without entitlement is motivation. If improv requires on-stage vulnerability to be successful, then we as performers need to open ourselves up to off-stage honesty with our teammates and industry peers. Otherwise, we waste time frothing in our own self-doubt. Far better to spend it asking questions about growing your own art. Any worthwhile improviser should be willing to share their own insights and insecurities back to you; the conversation should be an exchange, not a lecture (coaching situations follow different rules, naturally). Drama and diminishment only works in fiction. Keep a full heart when giving and receiving advice; if you grapple against imposter syndrome as a performer, then congratulations. You're normal. You don't have to feel alone.
And nobody challenges the validity of your presence but you.
——-
Writing is real work. If you would like to support the labor I put into this post, or if you want me to retire early so you never have to read another thing I write, please consider making a small compensation to my Ko-fi.