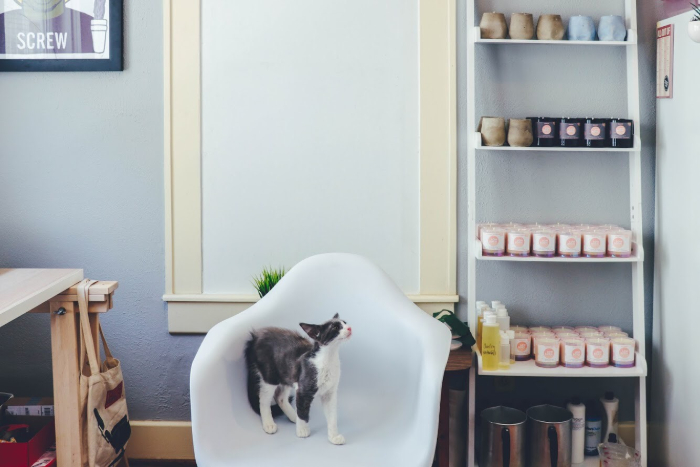 Writer, comedian, and social media professional Kathryn Way launched her online shop Lowborn Goods in 2018 with the goal of making stylish, ethically-produced handmade homewares and restored midcentury modern furniture available at an affordable price point. She recognizes the difficulty in balancing one's finances with the desire to do right by both laborers and the environment. With this philosophy in mind, Way seeks to empower consumers to make more informed decisions about the paths our products take to our homes.
And make said homes smell damn amazing while she's at it.
Her signature line of candles – the most popular item in her shop – include sublime scents inspired by everything from cupcake baking to Game of Thrones to the strength of a powerful dominatrix. Way began designing her own candles as therapy while undergoing treatment for post-traumatic stress disorder (PTSD). Drawing a line between our sense of smell and our sense of memory, she concerns herself with creating the same sense of coziness that her favorite craft brings her. A lot of work and a lot of heart go into the Lowborn Goods shop, and Way is happy to discuss how she synthesizes her views into her products.
Meredith Nudo: "Lowborn" refers to "the underdog, the commoner," according to your bio. You speak about how "there's no ethical consumption under capitalism," which reflects in your eco- and labor-saving work rescuing vintage furniture from landfills. Can you please expound further on how you apply these ethos to your business practices?
Kathryn Way: I try to apply these ethos to my business practices by making design more accessible to everyone. I wanted to give people an option for home goods that isn't ethically murky. For a very long time I believed that having "nice" things meant you had to buy them from West Elm or Restoration Hardware for exorbitant prices. You could find cheaper versions of the fancy things on Amazon and Wayfair, but nothing is actually cheap without cutting corners. Design is either too fancy and expensive or cheap because of exploited labor. Wayfair has been selling beds to the concentration camps on the border, and we already know how awful Amazon's labor practices are; these are the most affordable options to find attractive pieces for the home.
I shopped at both of these places for a long time, but I started to resent that they were my only options. I wanted to go the extra mile to swerve around that, so I learned how to make things myself. Everything I sell is something I made for myself first, so it's all very personal to me and made with love. And since I'm the only person making these things, you know where it's coming from. I'm selling honest pieces made with honest labor at honest prices. Something I'd really love to do in the future is hold workshops for candle making, woodworking, and design so I can teach other people how to DIY awesome things, too.
MN: Obviously access is going to be restricted in many communities, as I know full well you're aware. What are some other strategies for ethical furniture consumption people can utilize when there isn't a Lowborn Goods or similar merchant in their area?
KW: DIY! DIY! That's what everyone does now to learn something new, right? Look up some solutions online and then do it yourself? I'm a huge fan of self-education and empowerment through learning a new skill. Even that comes with its own barriers to access, though. I recently moved into a much smaller space and I no longer have a workshop space for large furniture pieces. I guess I could do it, but it would be pretty difficult. I totally understand not having the space or the resources to hone a craft like furniture making. I still think that you can train your eye to see good bones in second hand/thrift pieces, though. Ikea hacking has been a pretty popular concept for a while and the internet has so many awesome resources and photo inspiration, so even just having a DIY idea Pinterest board could be enough to get you started.
MN: What would constitute "good bones?" What's a good starting point for novice DIY furniture fans?
KW: To me, the bones are the actual outline/shape of the piece, so its frame. Drawers that are in rough shape, damaged veneer, issues with the pulls, legs/feet being damaged or wobbly – those are all fixable. As long as the frame of the piece is in good shape, you can fix things up and breathe new life into it. But even if it's not in the best shape (like my waterlogged Harvey dresser with bowed drawer faces) there are still things you can do to extend its life and update it; you've just got to be okay with it being a little funky.
MN: You mentioned hosting DIY workshops on practical crafts and home goods. Tentatively, what would the curricula for these look like?
KW: The biggest barrier for this is very likely my own imposter syndrome. I second guess my own expertise all the time. If I could pull my britches up and go for it, I would absolutely love to do something related to casting concrete using molds. That could be a weekend workshop with a couple hours on the first day going over the basics of concrete mixing and curing, ending in everyone casting their piece. The next day could cover curing, removal, and sealing – maybe they could be planters or vases. I haven't dedicated enough thought to it, obviously, but I think so many people would feel capable and empowered by learning how to tame this material that is so notorious for being imposing and masculine and brutalist. You can very much bend concrete to your will. It's fun and exciting!
MN: How should instructors such as yourself balance affordability with asking what you're certainly worth? Would you hold these workshops at a sliding scale price to make them more accessible?
KW: My background in comedy and performance makes me way into the "pay what you can" model. I really find that people are honest with that system, especially the people I know in Houston. I've even entertained a Patreon kind of model for DIY tips of the demand becomes more than local. I still don't know if I have the energy and brain space for a workshop yet, but it's definitely a long term goal. To ease into it, I may start posting furniture or design tips on Lowborn social media, like how to make a wood joint, how to prevent stain leaking through layers of paint on old furniture, etc.
MN: How do you develop the scents for your candles? What sort of factors do you take into consideration?
KW: All of my scents are kind of like olfactory stories. Sometimes it's a scent I've recreated from a special memory, like my Rose Quartz candle that's based on cupcakes I made with someone I love very much. Other times I'm invoking an experience or a feeling, like sitting near a campfire in autumn with friends who make you feel loved and safe. I don't really do simple fragrances, so you won't find single-ingredient scents like plain vanilla, or super popular scents like cucumber-melon. My fragrances are complex and layered. The whole reason I started making candles was because my therapist suggested that I buy some to make my house feel safer and more pleasant after I had been diagnosed with PTSD and then, shortly thereafter, was doxxed. When my address was posted online, I was lucky enough to move soon after, but I had no idea if my new address would also be discovered. I liked my therapist's idea to use lovely smells to make me feel safer in my home, but I didn't like the scents I was finding in stores. I think I got a little extra with it because I didn't just want a single scent; I was trying to recall memories that made me feel safe and cozy and happy.
Chasing Waterfalls is my most popular scent and it took me over three months to perfect. I employ the use of fragrance wheels like a professional perfumer would, but before I build out the scent I start with an idea or a feeling. Chasing Waterfalls is based on a memory I have from age eight or so, when my family went on a vacation to the Pacific Northwest. I had never seen a waterfall before, and I vividly remember touching the damp moss around the rocks and the earthy, green scents mixed with fresh water. Everything was deep greens and blues and so soothing. So I took that cozy memory and started building it out with a fragrance wheel to make it more balanced and complete.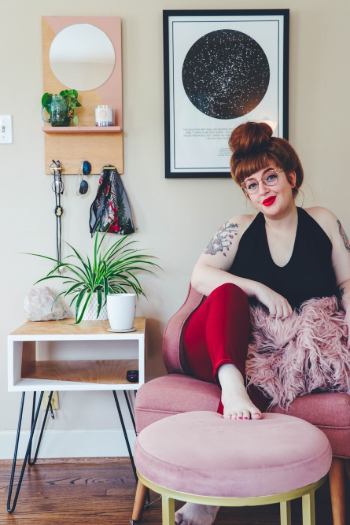 MN: That's such a lovely sentiment. Smell plays such a critical part in how we evoke and experience important moments. What joyful or cozy memories involving your candles have customers shared with you?
KW: The thing that still makes me extremely emotional is this one instance a few years ago when my candle making was still a bit new. A very close friend of mine (who I actually ended up falling in love with years later) would talk to me at length about the emotional connection to smell. His grandfather was in hospice care fighting a brutal losing battle with Parkinson's. His grandfather had been in the Navy in WWII and he asked if I could make something that would incorporate his background that would bring him comfort or invoke a happy memory. I made a scent called Hello, Sailor that sort of embodied my idea of this Navy sailor in the '40s. It had dried tobacco leaf, bay leaf, a bit of cedar and sandalwood, and Bay Rum aftershave – something my own grandfather, a Navy captain in WWII, wore. The friend brought the candle into his grandfather's hospital room unlit, and just held it up so he could smell it and he seemed to like it. He passed away shortly thereafter and I just bawled my eyes out when he told me about it.
MN: Circling back to the more technical aspect of candle making, can you elaborate on fragrance wheels and how to balance and layer notes?
KW: I started studying fragrance wheels a few years back when I was branching out and making a lot more custom mixes. There are different olfactory groups that traditionally combine to create a balanced, well-rounded scent. There are four main scent categories: fresh, floral, woody, and oriental. There are then lots of subcategories so you can customize further. Every great fragrance has a top, middle, and bottom note that work in harmony. Top notes are what you smell first, but they evaporate quickly and don't inform the entire scent journey – a lot of citrus scents are top notes, like the ubiquitous bergamot that's so often listed in fancy perfumes. The middle note takes over once that top note evaporates and gives you the ol' razzle dazzle, the real substance or heart of the fragrance. Common middle notes are floral or earthy scents, and they take most of the credit. The bottom note is the Lebowski rug of the formula; it's what ties the whole thing together. These notes last the longest on the skin and are usually rich, like vanilla or patchouli. The fragrance wheel formula has been super helpful when I'm customizing, especially because every single fragrance I make is now 100% custom blended. Now that I feel more comfortable blending, the fragrance wheel theory is a bit more of a suggestion or a starting point and I just follow my nose from there.
MN: What's the process like for rescuing and restoring furniture? What most appeals to you about the midcentury modern designs?
KW: Honestly, I obsessively check Facebook Marketplace for vintage furniture. I snoop through it several times a day and pounce when I find something with potential. One of my first pieces was actually a warped vintage dresser that got a little waterlogged in Hurricane Harvey. It didn't have any dangerous mold on it or anything, but the wood had bloated and bowed in different places from the flood water. The people who were selling it saw no potential in it, but I knew I could spruce it up when I saw the bones in the photos. I don't have a truck, but I know a few people who do, so if I find something really amazing I'll ask somebody last minute if they can help me scoop it up. That process is not an easy one, so I'm super thankful to have such sweet helpers in my life. I usually bring the piece home and stage it as-is in my house to envision its future. I don't always know what I'm going to do right off the bat because that entirely depends on the condition of the piece. When I've painted pieces before, it's usually because there's damage that I can't just sand away and I need to get creative. If the drawers of a dresser stick or pull unevenly, I will wax the insides and the tracks really thoroughly and then add some hardware to stabilize it and get it gliding more smoothly.
I think I'm drawn to midcentury modern designs because I grew up in the '90s with huge, overstuffed couches that took up half a room and big, blocky wooden furniture. I've had the same psychiatrist since I was in middle school, and he's a longtime collector of vintage midcentury pieces. I always loved the pieces he had in his office and would seek out similar designs when I would go to antique stores with my mom. There's just something so refreshing about shaking off the ornate, heavy aesthetic of '90s furniture for something more sleek and simple.
MN: Makes sense. Aesthetics also have a huge impact on memory and can instill as much of a sense of coziness as olfactory sensations. What other designs fill you with the same safety and comfort? Would you consider incorporating them into your store?
KW: This sounds so dorky and so millennial, but the movie Beetlejuice had a significant impact on me as a kid. Like, I know we're supposed to empathize with Lydia, the protagonist, but Catherine O'Hara is a god damned treasure and I will always think she is the coolest. Delia Deetz is a goddess. The bizarre decorations in their home and even Delia's outfits and aesthetic were extremely cool to me. It may have been my first encounter with modern aesthetic, actually. I'm seeing a lot of abstract and modernist art and design make a comeback lately and I am so here for it. Like, terrazzo is so cool right now! It's not the same earth-toned look it had when it was the floors of our outdated schools and libraries either, there are brighter colors and bigger chunks and I LOVE it. Just the other day I started to flesh out this idea I had for a thick concrete pedestal table – it may not bear fruit, but I would love to explore some more funky, modern designs that aren't exclusively of the midcentury persuasion.
MN: What elements do you look for when staging your furniture pieces? What do you recommend your customers consider when they contemplate purchasing one of the pieces you have available?
KW: I'm lucky that a lot of my everyday work as a designer/social media manager/photographer/etc. involves a lot of product photos and staging. Something that is super important to me is to remove clutter in a staged photo so that the piece itself can shine, but not to the point of looking sterile. I want everything to look lived in and human, so I use a lot of the things I actually have in my own home to stage pieces. I had this one dresser that I could not stop seeing as a changing table for some reason. One of my clients designs baby bedding and textiles, so when I was staging photos for that client, I was actively using this dresser in the photos because it just felt right. I didn't use those client's photos to sell the dresser, though, but the people who bought it were like, "Oh yeah, this is going to be the changing table for our first child!" I geeked out so hard. It was like the piece spoke for itself and just fulfilled that role.
I think customers should consider the basic logistics, like physical space and measurements, but more than anything, to visualize the general vibe they want that room or area to have. Is it a cozy, comfy space for relaxing? Is it a lively space where you want to tap into creative energy? I find it better to pick a vibe, pick a purpose, and then fill in the blanks as opposed to building a space around a piece. Intention is everything!
Want to support Kathryn Way's work? Good. You should. Check out Lowborn Goods' website, Facebook, and Instagram.