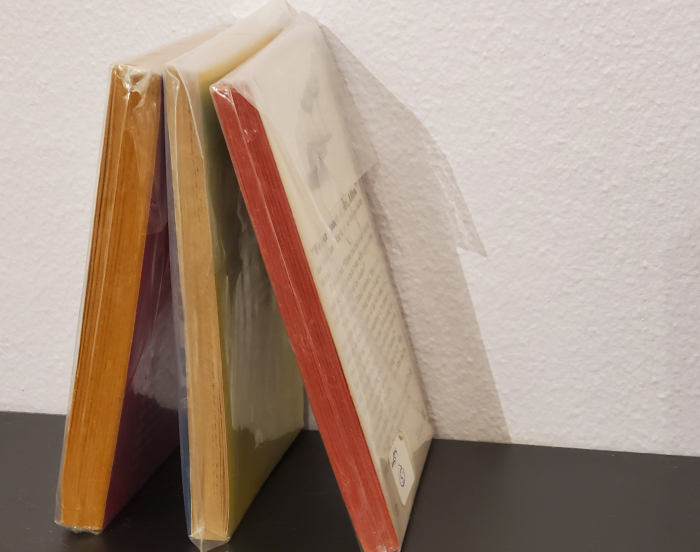 Station Theater, my comedy home for the past four years, has been forced to suspend shows, classes, and events due to coronavirus and will not reopen until it's safe for people to begin gathering again.
It sucks. It is absolutely the right call to make from ethical and public health standpoints and I applaud the owners Jessica and Roger for making it. But it sucks.
Anyway, I'm going to read midcentury smut via livestream to raise money and help Station with its operational costs during the shutdown. Thursday, March 13. 9 p.m. CST. On the Hardcore Nudoty Facebook page.
Right now, I have three sealed, vintage pulp paperbacks promising sexyfuntimes, like BDSM and "frenzied orgies." I've never read them, but they're from the early 1960s so I'm sure they're going to provide some campy delights. We'll embark on this journey together. Worth noting, of course, that given the time period in which the books were written there is absolutely the risk of deeply unfortunate wording. Verisimilitude can go suck my cat's butthole after he eats a pesticide-afflicted cockroach. You don't have to worry about the livestream turning into Edgelord Theatre.
Suffice to say, however, please consider the entire event to have one giant sexual content warning hanging over it. I'm not sure what all these books involve, so I can't in good faith claim that this performance will be a fully safe space past my refusing to read slurs. I trust you to make the right choice for yourself.
If you have the extra money to help, you can make a donation to their Venmo right now. If not, I am going to try for a weekly show so we get all the way through at least one book, barring any allergy-related voice issues. Obviously you're still welcome to come join in the festivities even if you can't pay at all. You'll have plenty of opportunities to show Station some love in many different ways.
After all, the owners didn't say I couldn't do this.