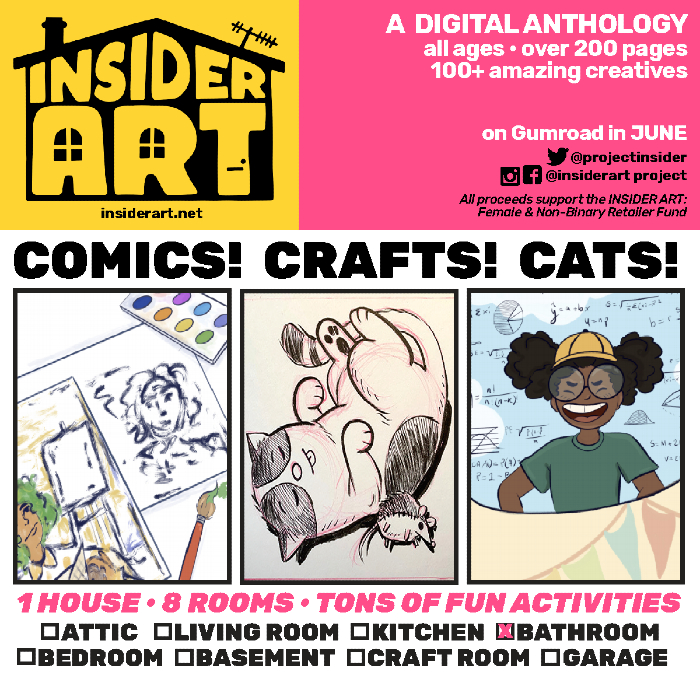 Insider Art is a multi-pronged project raising money to support women and non-binary comic book retailers facing financial hardship due to coronavirus-related shop closures. Anyone hoping to show some love for a project centered on "comics, crafts, and cats" – organized and edited by Shelly Bond, Nicole Boose, Elizabeth Brei, Megan Brown, Sofie Dodgson, Jen King, Mariah McCourt, Kris Simon, and Chrissy Williams – has plenty of options.
Purchasing fabric featuring contributing artists' cat designs via Spoonflower. Coming soon!
Participating in eBay auctions, with donated art, signed books, statues, and more.
Purchase the all-ages-friendly Insider Art anthology on Gumroad, estimated for a June release. It'll be crammed full of recipes, activities, comics, art, and…
…and I'm contributing a short story to "Bathroom," edited by Nicole Boose! It's titled "Shower Thoughts," it's about a possibly magical shower cap, and that's all you need to know right now. The incredible Deni Lance provides illustrations, two of which you can see up there in the header image! I am so honored and so excited to take part in such a wonderful project with such a wonderful team. If you ever get the chance to work with Nicole or Deni, TAKE IT.
Some super wonderful people from the comics industry whom I love are also sharing their gifts. Vita Ayala! Jennifer de Guzman! Jessi Jordan! Janet Lee! I am so excited to see what they've submitted (because no, I haven't checked out the final product yet). No doubt everything they and the other contributors have to share will prove showstopping!
Donations will be distributed by Jen King of Space Cadets Collection just up I-45 in Oak Ridge North. There is no comic book industry without the passion and butt-busting labor of comic book retailers, and women and non-binary shop owners and employees remain underrepresented. They deserve to be uplifted as small businesses grapple with the question of opening up and potentially exposing them to illness or closing and possibly losing their business. This project aims to quell that unfair anxiety as much as possible. We need you to help us help them.
Definitely make sure to check out the Facebook group, Instagram, and Twitter. And if you use Instagram, please show your support for Deni as well!