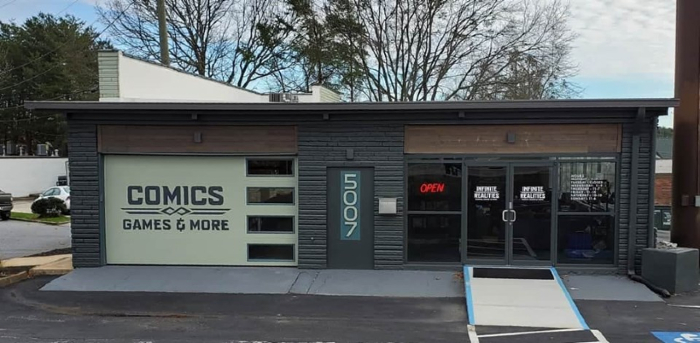 In June, DC Comics announced it would cease its relationship with distributor Diamond, fulling transitioning to DCBS' Luna and Midtown Comics' UCS rather than following through with the non-exclusive deal made in April.
As reported by Heidi MacDonald at Comics Beat, DC accounted for 30% of Diamond's sales. Because the distributor has held a position that many would deem a monopoly in the comics industry, questions inevitably arose over how such a significant loss would impact retailers.
"The split from Diamond has doubled or tripled the amount of work we do when we're ordering comics, processing new comics, pulling subscriptions, and putting new comics on the wall. In the short term, it's forcing us to put a lot of extra effort into processes we had already streamlined," says Randy Lander, owner of Rogues Gallery Comics & Games in Round Rock, Texas.
"That's what I expect in the near future, extra work for the same amount of return, which is frustrating. And not being sure what we're going to be able to get back in stock in term of weekly reorders."
He also notes that the Tuesday release date has created some confusion among customers, who don't want to make a run to their boxes twice a week now to stay up-to-date on the latest releases. Because of the free flowing spoilers on social media, the "Wednesday Warriors" enjoy picking up their established favorite and most anticipated titles the day they go on sale.
Jami Jones, co-owner of Infinite Realities Comics in Tucker, Georgia, faces near-identical challenges to Lander.
"Instead of being able to rely on a single program specifically designed to help with ordering, FOCs (final order cutoffs), and subscriptions, I now have to adapt to one of the major publishers not being integrated," she says.
"I had to brush off my old Excel skills to come up with an old fashioned spreadsheet to keep track of my DC customers. I'll also have to add each title and its information into our backend so it will be able to be rung up with our current system. Right now, it is really impacting us by eating up our time. Instead of working on new initiatives or ways to keep customer engagement during this crucial time I am double checking numbers to make sure I don't miss anything for my subscribers."
She hopes that, in time, DC and Diamond will streamline their services to ease the ordering process.
Concerns regarding Diamond's hold on distribution have passed between retailers for decades, with conversations about breaking up their near-exclusive status a regular occurrence in the comics industry. However, with many stores hyperfocusing on keeping their employees paid, customers satisfied, and doors open during the COVID-19 pandemic, DC's departure disrupted the debate at an inopportune time.
"I won't be getting books released on Tuesday until Thursday this week. Yeah, this isn't the way to do it. It needs to be an actual distribution company, not the two biggest retail accounts Diamond has," Jones says.
Neither Lander nor Jones wish to see DC books disappear from their shelves entirely, and actively encourage customers to read whichever titles pique their interest. They see no value in disappointing fans, and shut down offers from regulars to drop or even boycott DC books in solidarity. However, there will still be fewer floppies available on the Rogues Gallery and Infinite Realities shelves.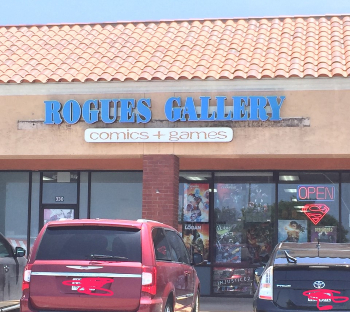 Jones says, "I am doubtful I will be carrying many shelf copies of DC titles. I will never deny a reader a book they request, but I don't have to give shelf space to a publisher that has seemingly given up on the retailers who have supported them for decades."
At Lander's shop, shelving protocols now trend toward "being much more draconian if DC books aren't selling right away as opposed to giving them the deeper support we're giving to books from Image, IDW, Dark Horse, Vault, and other publishers who have been more supportive in this time."
He expresses further concern that the divide may further splinter the distribution process, sending shop owners scrambling to MacGyver together new practices together at a moment's notice.
"There's definitely part of me that worries that DC is planning to essentially cut small retail out of distributing their weekly comics entirely, leaving it all up to DC directly, Midtown Comics, and DCBS (the two companies behind their new distributors)," Lander says.
"There's another part of me that worries that taking DC's business away from Diamond could destabilize the remaining distributor to the point where they're not viable, and that resulting in the collapse of our distribution system, to either be restarted with numerous direct distributors for Marvel, Image, etc. which would have knock-on effects to smaller and self-publishers."
Nevertheless, there are some potential positives within the DC and Diamond break, despite their businesses getting caught in the middle.
Jones is using the opportunity to encourage customers to seek out other titles by their favorite DC creators.
"If I can get one Batman reader to give Something is Killing the Children because of their enjoyment of [writer James] Tynion [IV]'s writing, I call that a win," she says.
"It is up to the retailer to help guide their readers and customers into experiences they may not have known existed, and along the way we retailers as a whole got lazy and relied on the major publishers to spoon feed us what to sell."
DC Comics could not be reached for comment before publication time.
——-
Writing is real work. If you would like to support the labor I put into this post, or if you want me to retire early so you never have to read another thing I write, please consider making a small compensation to my Ko-fi.